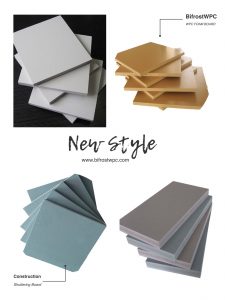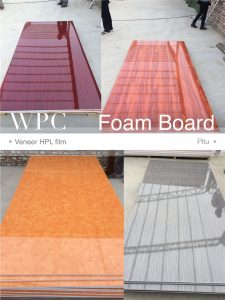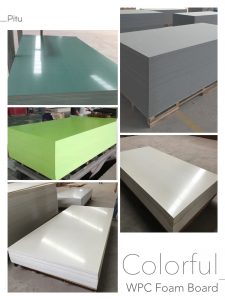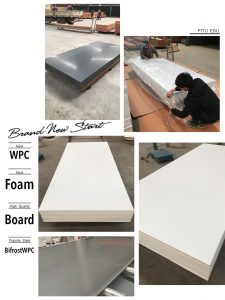 BifrostWPC Foam Board is made by PVC resin and wood powder(or bamboo power) at a certain ratio, added with special additives and extruded at high temperature.
It has the sense of wood, but it is harder,smoother and stronger. It is light weight, waterproof,no moisture absorption, no mildew,UV-resist,anti-corrosion,acid and alkali resistance,easy to assemble, high turnover rate, no crack,less seams, sawing, can be nailed, can be processed into any length, recyclable and many other advantages.
It can completely replace wood, plywood, poly-board, shaving board and MDF. It is widely used in many fields: construction shuttering, building and pholstering, furniture, especially for the cabinet in kitchen & bathroom, advertising, traffic and transit, industry, etc.
Standard Size: 1220*2440mm
Thickness: 3-20mm
Density: 0.3~0.85g/cm3
Standard Color: white, black
Customizer: Size & Color can be do as customer requirement
(Red, Blue, Yellow, Green, Orange, Pink)
Environmental Friendly:
*No any benzene and the formaldehyde discharge,Non-toxic
*Sound-insulated
Energy Saving:
*Made from the waste lumber, so can get hige-usage of the lumber.
*High recyclable, eco-friendly, saving forest resources
Good Appearance:
*The surface is smooth
*with the look of the natural wood but less timber problems
*Amazing colors and rich in colors. High glossy and matte is available
Adaptability
*Waterproof, no moisture absorption, no mildew, less rotten, proven under salt water condition
*Weather resistant, suitable from minus – 30 to 90 centigrade degree,non-deformation
*Fire retardant and self-extinguishing,automatically extinguish by itself and meet the standard of GB/B1.
*Heat insulation and heat preservation, In the physical characteristics, it has a low thermal conductivity as the lumber, which means it can prevent heat in summer and keep heat in winter.
*Borer proof,WPC can get rid of insect,Well done of termites and so on
*Perfect chemical resistance, good resistance to light and UV
Good Mechanical Performance:
*Easy to cut, easy be edge-covered in machine
*Easy to nail, hammered, drilled, sawed, turned, glued, bended, printed, oiled, thermoforming
*Easy to clean
*Tough, rigid with the high impact strength,less crack,less break and less warping
*Requires no painting, Stable color retention,no glue, low maintenance
Application:
Architectural and Transportation: Building templates,formwork panel.Inner decoration for tde automobile, fan casing, meter rack, heat insulator material.
Furniture Decoration: Bathark, ambry, Decorative board,noise barriers,partition board,roof insulation board,fireresistant kitchenware and bathroom facilities,commerial decorative shelf,clean room dampproof,wall and fireproof window frame.
Advertising: Professional screen printing, exhibition board,High-end merchandise display rack,color sign,signboard and so on.
Industry Engineering: Moisture protection, corrosion protection, environment protection special insulationand pieces of hot forming
Others: Cold storage, anticorrosion material, energy saving device, chemical resistant material, water resistant template,antistatic facility, seashore damp-proof facility,and various light partiions